EDCTP and The Global Health Network have launched the EDCTP Knowledge Hub, an online platform with open-access resources for researchers conducting clinical research in low-resource settings. With financial support from the European Union and the Swedish government, EDCTP commissioned The Global Health Network to develop this digital knowledge hub to provide researchers with tools and guidance that enable them to undertake high-quality health research.
The EDCTP Knowledge Hub includes the Protocol Development Toolkit, the Data Management Portal and the Data Sharing Toolkit. These interactive and comprehensive toolkits are designed to cover the essential steps of a clinical health research study and support researchers in order to accelerate progress in health research.
The Global Health Network conducted a scoping exercise to assess the needs of researchers in protocol building, data management and data sharing. This included an evaluation of what already existed in terms of tools, regulations and guidelines and a gap analysis with a view to addressing these gaps in the EDCTP Knowledge Hub.
The platform's tools are designed to help researchers to develop protocols from a research question, adopt gold standard clinical data management practices, and support awareness and capacity development around data sharing. The platform is suited to all health research groups and aims to facilitate high-quality clinical research in poverty-related diseases.
EDCTP Knowledge Hub components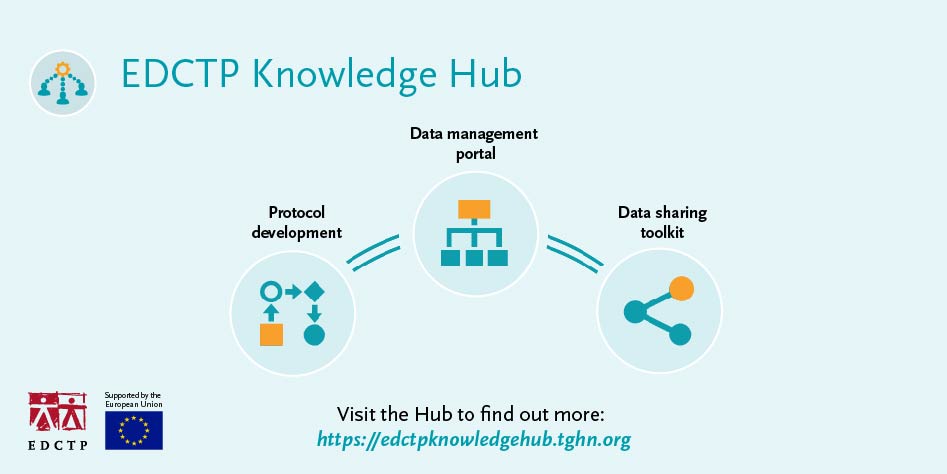 Protocol Development Toolkit
Protocol development steps
A step-by-step guide on developing high-quality health research protocols.
Concept Protocol Crowd Review Tool
Allows users toinvite feedback and advice on a concept protocol from the EDCTP Knowledge Hub and The Global Health Network community.
SEPTRE (SPIRIT Electronic Protocol Tool and Resource)
An innovative, web-based software solution that makes it easier to create, manage, and register high-quality protocols for clinical studies.
Study Walk-through Toolkit
Describes a method to help translate your protocol into an accurate and successful study.
Resources
Extensive collection of resources linked to Protocol Development which can be searched and filtered by type.
Data Management Portal
Data Management Steps
Developed to provide support to researchers to ensure that high-quality data management is fully considered, and planned for, from the outset and throughout the life of a research project.
Data Management Plan
Guidance and resources to assist with developing a data management plan.
Resources
Extensive collection of resources linked to Data Management which can be searched and filtered depending on their type.
Data Sharing Toolkit
Data Management Basics
Explanations covering different aspects of working with data: from a list of free version control tools, through explanation of metadata and real-life examples of data problems encountered by data managers handling clinical data.
Data Sharing Steps
A step-by-step guide on how to prepare to share your data.
Repository finder
An online tool to help you select an appropriate repository for your health research data.
Resources
Extensive collection of resources linked to Data Sharing which can be searched and filtered depending on their type.
EDCTP
The mission of the European & Developing Countries Clinical Trials Partnership is to contribute to the reduction of the individual, social and economic burden of poverty-related infectious diseases in sub-Saharan Africa. EDCTP funds collaborative clinical research that accelerates the development of accessible, suitable and affordable medical interventions (drugs, vaccines, microbicides and diagnostics) to identify, prevent or treat HIV, tuberculosis (TB), malaria, HIV, tuberculosis, malaria, neglected infectious diseases; diarrhoeal diseases; lower respiratory tract infections, as well as emerging or re-emerging infectious diseases of particular relevance for Africa, such as Ebola virus disease or yellow fever.
The Global Health Network
The Global Health Network is a global open community of practice for health workers, research teams and research organisations. It facilitates, supports and enables research in diseases, places and settings where evidence is lacking. It works by sharing research methods, know-how and data between organisations, projects, regions and roles, and delivers capacity building, support and training to research teams and frontline health workers.
EDCTP Knowledge Hub
The platform is funded by the EDCTP2 programme under Horizon2020, the European Union's Framework Programme for Research and Innovation. Cofunding from the Swedish government is also gratefully acknowledged.